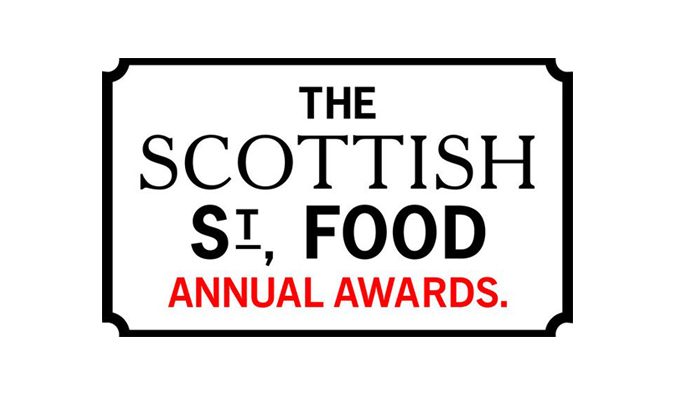 Scots Wha Hae
Scotland came out to play for the inaugural Scottish Street Food Awards at The Pitt in Edinburgh this weekend. The BBC sat up and took notice. After heats on the Friday and Saturday, our judges – top chefs Mark Greenaway and Neil Forbes – chose The Buffalo Truck as Champion. With Shrimpwreck romping home as the People's Choice. They will both now go on to the finals of the 2017 British Street Food Awards in Manchester and — possibly — the inaugural European Street Food Awards in Berlin. That's going to be a lot of food miles!
After two weeks of blue skies (apparently), Edinburgh reverted to type and went from oorlich to fret on the Friday – before it settled at dreich on the Saturday. Sunday, however, was a stoater. The Pitt – Hal and Scott's clubhouse of cool, with fire pits, live music and Barney's on tap — showed how street food should be done. In the wet or the dry. Everyone had fun — even the dogs. And the unisex toilets kept the crowds on their toes. This is the full list of finalists – Scotland should be proud:
Chick + Pea
Middle Eastern/Mediterranean cuisine, from their beautiful Citroen van Albert (Al-bear), is the name of the game for Chick + Pea. He's from England and she's from Malta — an island that has been heavily influenced by European and Arabic food cultures. As such, their menu's out to capture all manner of hearts and minds, veggie or otherwise: Sticky Lamb Buns with Cucumber Relish, Freshly Fried Falafel with Green Tahini and Hummus, Triple Cheese Courgette Fritters (Goat, Feta and Ricotta) with Harissa Yoghurt, and Almond Crusted Chilli Squid with Sumac Aioli. 'We also do a dessert which was very well received during the Edinburgh Fringe Festival called "doughtnut bread…sort of"', says Jeremy. 'Which is basically a French eggy bread with cardamom sugar topped with maple syrup.' Playing to the famous Scottish sweet tooth, then.
Fresh r-evol-ution
Husband and wife team Ronan and Emily of Fresh r-evol-ution decided to start their own form of culinary insurrection after spending nearly three combined decades in hospitality. They were tired of working for others and having their most creative foodie ideas pushed to the side, but also frustrated at the lack of availability in affordable, locally sourced food. Lucky, then, that Scotland – a land of sheep, seas and a rich larder – has no shortage of modern farming techniques. Just look at Craigie's Farm Shop and Cafe, a favourite Fresh Revolution supplier, where the Sinclair family raise crops in polytunnels, protected from the elements, with their own bee colony for fertilization. The sky is the limit for Scottish cuisine, and with Ronan and Emily out of their creative shackles, the same goes for them too.
The Buffalo Truck
Once a marine biologist, Robin had had enough of spreadsheets and mud and sideways rain. So it was off to a fine dining kitchen with him. While harbouring dreams of owning a food truck (which he later found on eBay), of course. Now, it's less about the white tablecloths, and more about the buttermilk chicken burgers with truffle parmesan fries. 'It's high-class filth, essentially,' says Robin. 'Although fried chicken as a whole is far from revolutionary, I have managed to develop a cult following – and I put this down to the time and effort I have put into making sure that what I do really is the best it can be, from the specific brining process I use, to the fennel seeds in the breading, all the way to the amazing toppings like black garlic mayonnaise and house made bread-and-butter pickles.'
The Prague Shack
Czech cuisine is mostly about slow-cooked dishes, sauces and meat, and The Prague Shack (previously Food Shelter UK) are offering up a menu of 8-hour beef goulash with a traditional Czech bread dumpling and a meat loaf bun with a whisky sauce and homemade pickles. It's simple, but ambitious at the same time – it's hard to convert food like this to the street. But when a dish like this works, it really works, so we're not about to skip on seeing Barbora and Vincent try.
Umami Spice Girl Ltd
USG's an interesting bunch. One ex–Army officer and two foodies, headed up by a trained chef – Michelle. Her street food adventure started last April, with a successful stint at Edinburgh Fringe, and is now a solid regular at the pitt. A farmer's daughter, she's always had a passion for great food. 'We ensure we use locally-sourced meats from George Bower Butchers in Stockbridge,' says USG. 'And where possible, produce from Michelle's Dad's farm.' Good sourcing's fine, but how it translates on the plate is what really matters. Which is why USG isn't afraid to travel the world to find what's good. 'Our menu includes home made SE Asian curries, Chicken Thai satay kebabs, laksa, quesadillas, tacos, san choy bau (Vietnamese pork in a lettuce wrap with crispy fried noodles) and Cubanos. This will be expanded further after our travels!'
The Cheesy Toast Shack
Ear to the ground? Then you'll know melted cheese is all the rage right now. Don't worry – this isn't one of those pseudo-indulgent fads. Science says cheese is as addictive as crack Something about Casein, a dairy protein in the cheesemaking process, triggering the same receptors in the brain. Good then that The Cheesy Toast Shack are here at the awards to sustain our addictions. 'The Italians have their pizza, the French have their croque monsieur, and us Brits have our cheese toasties,' says CTS. 'We love using cheddar from our local farm, St Andrews Farmhouse. This cheese has been matured for months on end, and therefore obtains a sharp taste. You can really taste the difference between this and your supermarket cheeses.' What's that? Using supermarket slogan against supermarkets? Clever.
MOO PIE Gelato
Scotland and ice cream. Shouldn't be a fit, but it is. And, in MOO PIE Gelato, we're bringing you the best in the business – custom-built gelato cookie sandwiches all served up from a fabby wee bike called Berty. 'We hand craft all our gelato from our kitchen in Leith' says Emma, a fairly recent graduate of, would you believe it, the Gelato University in Bologna. 'Which means we've complete control over our ingredients. Pasteurising, aging and churning in-house to bring you some seriously creamy, creamy deliciousness.' The best thing you'll ever put in your mouth? Could be.
Ròst Eats
'Eat local' is Scott of Ròst Eats' mantra. We can't emphasise this enough – Scott's so fixated on seasonality and provenance that his menu's always changing. One minute it's peanut butter crunch pheasant burgers, the next it's Kentucky fried rabbit with lime and coriander slaw. There's something to be said about Scott's craft here, too – the pastrami in his rabbit pastrami sliders is made by his own fair hand. It requires a process of brining and refrigerating and smoking and patience that your average trader won't bother with. But the results speak for themselves.
ShrimpWreck
ShrimpWreck started life as a side project. Little more than a fryer and a griddle, but 'enough fish to feed an army,' as Ewen says. Things began to take off after that. Quite literally. 'Almost a year ago, me and a friend took the van to Aberdeen for a five-day market. The first two days were a complete wash out with snow coming through the gazebo. It blew half way down the street on the first night. Lesson learnt. I've weighed it down ever since!' More recently, Ewen entered the Fish Finger Sandwich Awards to impress a panel of judges, including Greg Wallace, in London. A decision he made – and perhaps a decision you can only make – when he was a few pints down at the bar.
Chompsky
Chompsky have been cooking up a storm in Glasgow for just over three years now. Beginning with three friends doing pop ups in bars and venues across the city – serving everything from Korean to Italian and Jamaican – they're now happy to get on the road. 'But we've also gone through the painstaking process of applying for our own pitch in the West End of Glasgow,' says Felicity, 'which the council finally granted to us after eight months of fighting.' After a spell at Taste Buchanan, they now operate out of Broadcast, the music venue in the centre of Glasgow. All this, when you consider the 20-year-old truck they operate out of has seen better health. And fewer engine problems. Just shows what a love for food and a bit of grit can do for you.
Hamish's Hogs
This was actually a street food mash-up – a 'collab' between Matthew from CAV & CO. and Martyn from Hamish's Hogs. Martyn was the spitmaster, cooking up high-welfare hogs from Angus (two miles from his front door). And Matthew was all about the sauces and sides. Both are members of an Angus food group called The Food Life – and both are intent on winning. The hog will be cooked fresh on the day, on an eight-hour spit, before it's sauced and stuffed into pillowy white rolls from a community bakery in Aberdeen.
Haggisman
It's Scotland's national dish. So it was bound to feature. But don't be fooled – Haggisman isn't just about the haggis. 'The aim,' says Andrew, 'is to bring back the ancient unusual dishes of Scotland's culinary past but tickle a bit of street food vibe into the mix. Cullen skink, Arbroath smokies, rumbledethumps, stovies, and of course haggis.' His menu was a real hit for Burn's Night at Leeds' Trinity Kitchen. As you might expect. Still, it's fair to say haggis doesn't get the kind of rep it should in the street food arena – something Andrew wants to change. 'The wealth of unusual dishes in Scotland lends itself well to the current street food craze and we are here to add some banter, and some smiles, bringing you Scottish soul food at its best.'
barnacles & bones
Sorry to tell you, but barnacles & bones don't sell barnacles. Or bones. This Edinburgh trader, that showcases the excellence of Scottish street food, serves up a menu studiously avoiding both. For the sea lover they take the neglected brown crab from the shorelines of Scotland and serve it on crispy fries seasoned with sea salt and tarragon. And for the meat lover they offer up short rib of beef (a cut often overlooked by the British public) which is slow-cooked for 24 hours in sherry, grilled, and then pulled from the bone before it's topped with a chimichurri made from fresh Scottish herbs. Its all a bit of a mouthful, in more ways than one, but who can say they'd have it any other way?
The Crema Caravan
They're back. And they want silverware. It's The Crema Caravan, the UK's first crème brûlée van, which has been serving up restaurant quality dessert al fresco since 2014. The pair want to reclaim their Best Dessert title, which they won at the finals of the British Street Food Awards in 2015 – at the O2 in London. 'Ours is a truly craft product,' says Mel. 'It requires a skill and precision that you just don't get with other sweet street foods. Competing to reclaim our Best Dessert crown in Scotland means a lot. Scotland is a hotbed of 'cottage industries' and that's great for sourcing. Plus thanks to the guys at Scotland's first street food hub — the pitt. It's really given us all a platform to share our product with the people of Edinburgh, United Kingdom and beyond!'